Guided Black Bear Hunts in Alberta, Canada
Double Diamond Wilderness Hunts Ltd. owns the premier black bear hunting area in Northern Alberta Canada. Join us on a black bear hunt along the famous Athabasca River in WMU 531. Nestled along the river and bordering the Wood Buffalo National Park to the North with the Birch Mountain Wildland Park to the west, we have everything we need to constantly draw big mature boars. We hunt bait sites that consistently produce record book bears and each year we open new areas that have never been hunted. With no local hunting pressure you will have excellent opportunities to harvest mature trophy bears and wolves on our Alberta black bear hunts.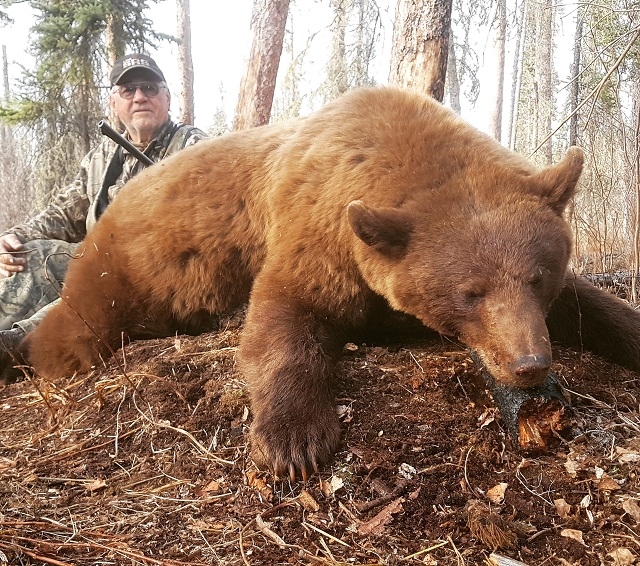 Hunting Black Bear in Alberta
This country is bearadise and with such a high density of black bears each hunter is allowed to harvest two. This is a remote bear hunting area, and all bait stations are only accessible by 4x4 ATV's. Stands are set up 15 to 20 yards from the bait site giving archery, muzzle loader, rifle, and cross bows hunters ample opportunity to harvest a trophy black bear or wolf.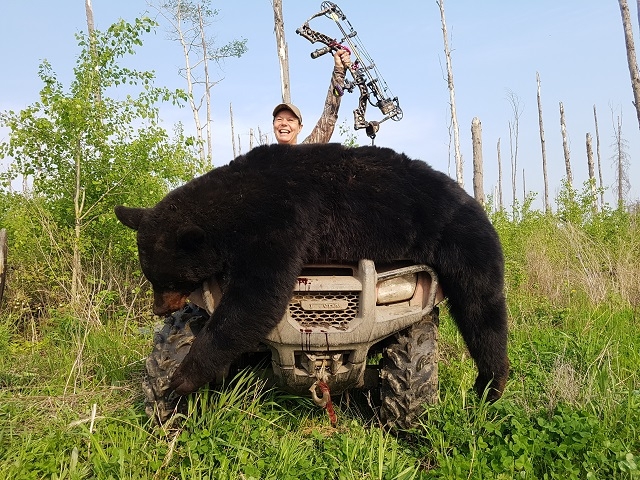 Harvesting Trophy Black Bears
With our intense feeding program of meat, oats, fryer grease and fish exceeding 20 000 lbs. yearly, we strive to only harvest large mature boars that square 6' 10" or better with some bears exceeding the 7'6" mark and closing in on 500 pounds! Our management program is working with an incredible long term average of 7'1" squared with 98% of our bears making the P&Y minimum of 18" on the skull! Long term skull average has been just over 19" with numerous bears yearly scoring over 20". Clearly if your looking to harvest a trophy bear, we are the best option in Alberta!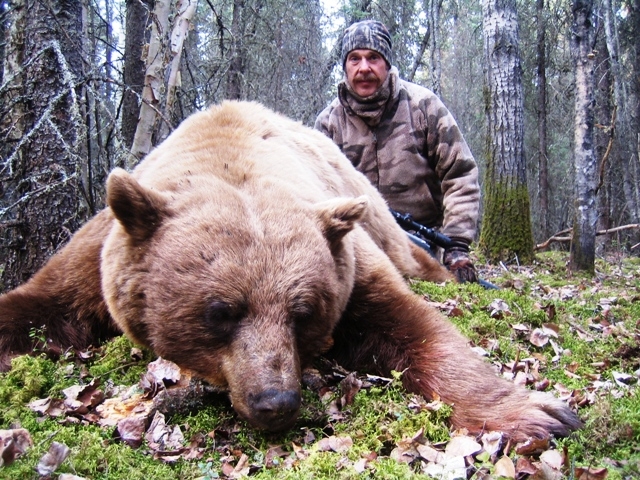 Hunt Costs Includes:
Pick up and drop off to Fort McMurray AB
All meals while hunting
Professional trophy preparation: complete skinning of your bear including the turning of lips, eyes, ears, nose and paws.
Your bear will then be salted and dried ready for shipping. We do this to prevent the hair slipping in the event your baggage is lost by the airlines on your return trip for a day or two. Some outfitters freeze your hide only, which could result in a ruined trophy.
Hunt Costs Do Not Include:
Airfare to Ft. McMurray
Hotel costs before or after the hunt
Gratuities for your guides & cooks
Shipping your trophy
Hunting licenses and GST
Please give us a call with any questions about our black bear hunts. We look forward to making your black bear hunting adventure a reality. Please email us or call at 403-357-4499 for a current price list with references.